Mindspace – a global operator of boutique, flex office spaces – has signed an agreement with Karimpol Polska for 4,400sqm of floor space in the 42-story Skyliner office building in Warsaw. This will be Mindspace's second location in Poland, providing over 600 workstations, and is scheduled to open in spring 2023.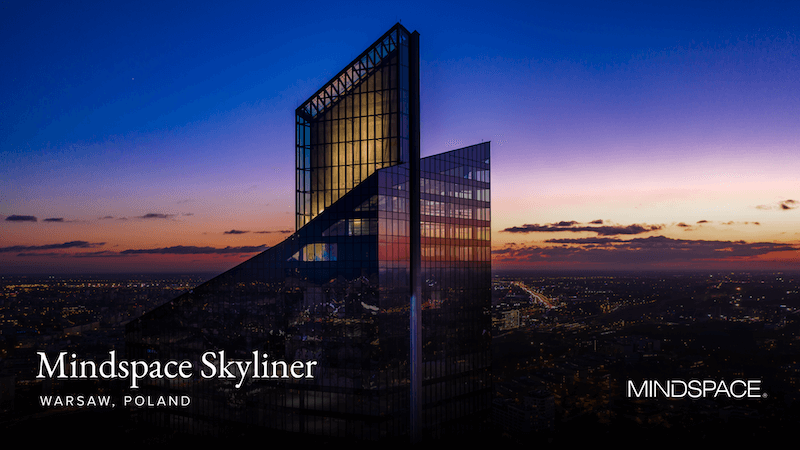 Currently, Mindspace has 40 locations in 20 cities and 7 countries in Europe, the United States and Israel. Poland's first Mindspace branch, Mindspace Koszyki, is located adjacent to Hala Koszyki,, and spans nearly 5,500sqm. The Mindspace offices are located over four floors of the building at ul. Koszykowa 61, and over two floors in the tower at ul. Koszykowa 65, offering 781 workstations in total.
After the success of its first location, Mindspace is launching a second site in the Polish capital, having selected the state-of-the-art Skyliner building at Rondo Daszyńskiego for its new Polish headquarters.
"We are really excited to expand our operations in Warsaw and to start cooperating with Karimpol. We have been closely monitoring the Polish market for a new location for several years, and the Skyliner building has turned out to be the best option. Its exceptional location and impressive architecture perfectly match our high standards and our approach to design.
Each of our global locations showcase the signature Mindspace design style, yet they are always infused with a local flavor. The natural light and views over the city make this location particularly special, as well as offering the excellent benefits and services that Mindspace members can expect", Yotam Alroy, Co-Founder and Chief Business Officer at Mindspace commented.
"I am confident that this new standout location will be appreciated by both potential clients and our current members, who can use any Mindspace location worldwide at no additional cost. As demand for flexible office solutions continues to grow globally and with our offices at near full capacity, we continue to look for new business opportunities in both the EMEA region and the US. We recently opened new locations in Miami, Berlin and Israel and are continuing to expand our portfolio worldwide", he added.
"Due to the growing popularity of flexible office spaces and the development of coworking services in Poland, we are very happy that Mindspace will be included in our flagship building. We are convinced that the great location of the building, the modern solutions that we have designed with its users in mind, as well as ESG initiatives that we are implementing and developing, will contribute to the comfortable use of the office space by members of the Mindspace community", said Harald Jeschek, Managing Partner at Karimpol Group.
CBRE advised on the agreement.
"The agreement between Mindspace and Karimpol for the Skyliner building proves that the flex office space sector is doing very well. Tenants are looking for flexible space in uncertain economic times and real estate owners are keen to have a partner such as Mindspace in the building." – said Konrad Szaruga, Head of Flexible Office Space at CBRE.
The tenants of the building already include: MicroStrategy, Dom Maklerski X-Trade Brokers (XTB), DXC Technology and Luxoft, Colonnade Insurance S.A. Branch in Poland, iTechArt, Booksy, Bolt, Onwelo, Capital.com and Tarkett. The office building also houses the MEET & EAT restaurant, which belongs to the Nutri Mind Group, and the bakery and coffee concept "Gorąco Polecam. Smaki z Piekarni" (Enata Bread).
About Skyliner
The Skyliner office building is one of the seven tallest buildings in Poland and the latest investment project of the Karimpol Group. It offers 49,000 sq.m. of rentable space on 42 floors. The lowest levels are dedicated to services, retail and food. At 165 m high, there is a two-level Skybar with extraordinary views of the Warsaw skyline. The Skyliner has the highest office lobby in Poland, as high as 16 meters. The building is equipped with state-of-the-art technology including 21 high-speed lifts (up to 7 m/s) with a smart touchless service system, as well as the SkylinerApp building application which replaces traditional access control cards and enables remote desk, room and parking space reservation. The Skyliner 's five-level car park is designed for 428 cars, has charging stations for electric vehicles, as well as parking spaces for 330 bicycles with full infrastructure for two-wheel enthusiasts.
The Skyliner is BREEAM certified as Excellent and is powered by 100 percent renewable energy sources. It is certified by innogy Polska S.A. of the E.ON Group as buyer of guarantees of origin for electricity from RES.